Today I'm going to show you the unique technique through which you can easily recondition your old dead batteries at home.
By doing So you would be able to :
When it comes to old batteries, many people only think of throwing them away and thinking of replacement, however, there is another way you can go around this to bring your old battery back to functionality. In fact they can just work as good as the new ones.
Now Question 1st question may arise in your mind? How to recondition / recover dead batteries ? Is is really possible to recover old batteries?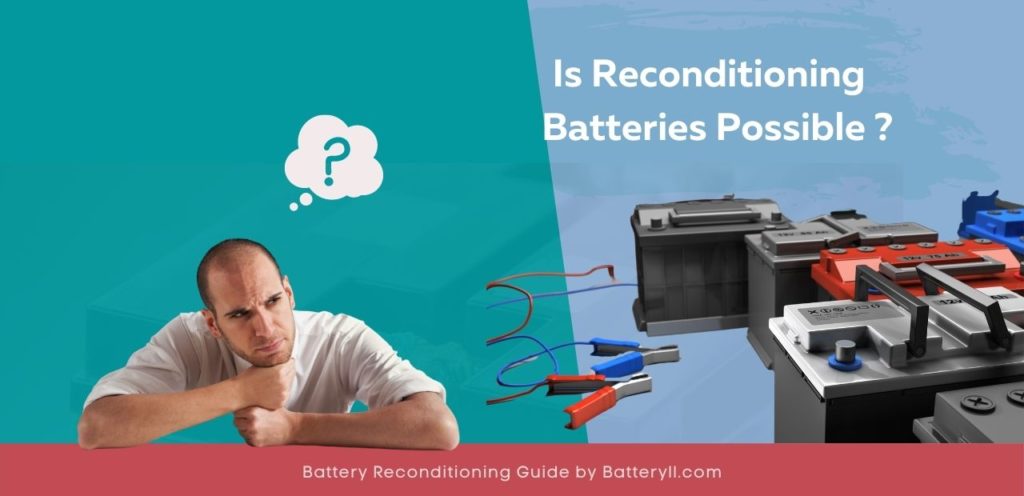 Let me start with my own story, Back in 2015 My Inverter Battery which is of 200Ah suddenly stopped working. At that time i though the battery got expired but i was wrong. Similarly the next year same incident happen to me again i replace the battery ? Suddenly i started thinking isn't it possible to repair battery?
Why always battery seller recommend to get new one instead of repairing the old one, This things trigger me to go deeper inside the battery reconditioning and finally i came up with solutions to repair old batteries and use it like new one .
In this article you will be able to know how to recondition almost all types of battery.
Types of Battery That Can Be Recondition
Actually, Battery Reconditioning is old technology, but people do not know more about this method. People do not like to put old batteries in home, Instead they throw away thinking it as rubbish.
But the fact is the thrown battery is polluting the environment. We the people should take care of environment. We should learn the exact method of reconditioning old batteries and educate other people around us too. Batteries contains harmful chemicals that will pollute the surrounding water resources around us.
Advantage of doing battery reconditioning.
Help a lot in preventing pollution of the environment by a bigger percentage.
Cut down your expenditure of buying a new battery .
Can Start own battery reconditioning Business.
Can help friends and family in case they are also facing similar problem.
Reconditioning lead Acid Battery
These kind of Batteries are available everywhere from your electronic gadget to your Car, Truck, Heavy Vehicles in your Home as Backup to UPS during power cut off. Mainly lead acid batteries are used in vehicles although nowadays some vehicles comes with hybrid battery.
The steps to followed to recondition lead acid batteries are:
Reconditioning a car battery
Just like many other apart of the car, a battery is equally expensive, however you don't need to go that far to buy other ones, you can as well recondition them and they will be just close to new ones. In fact they will be only drop their power by 30 percent, but they will be 70 percent powerful of a brand new one which is far much more than a car can needs. Here are the steps involved in reconditioning of the car battery
The requirements are: a syringe, a battery charger, distilled water and a voltmeter
Reconditioning a Hybrid Battery
These are the batteries commonly used in hybrid cars; this is because of their durability, these batteries can run this car for about 200, 000 miles. Well, if you are using rights battery and it gets damaged, it can be replaced by the manufacturing company; however, this is only possible if the warranty is still valid. The possibilities are that the battery won't get damaged before its warranty expires because it is quite durable, if this battery gets damaged when you have no warranty at all, you may opt for a new one, however, it is very costly, and reconditioning becomes the cheapest option here and the simplest choice too.
Hybrid batteries can come with more modules or less modules. However, they don't differ in working, the best thing about this modular system is that when a battery gets damaged, one can just get other modules and replace and the battery will be working just fine again and that is how manufacturing companies do to the damaged ones and sell them again.
This is the very same thing you can do when your hybrid battery gets damaged, instead of throwing them away for new ones which are costly, you can just buy modules and replace the damaged. This is a very cost effective way of managing your battery because modules will just cost around $700 compared to $3000 for a new one, another thing is that the reconditioned battery will just stay as long as 6 to 7 years which is quite convenient.
Final Word My Recommendation and Suggestion
So If you would like to restore all types of battery of all kinds in quick and easy step way by watching video and taking guide from expert . I would recommend to get ez battery reconditioning guide . This guide is complete package for reparing /restoring / reconditioning all types of batteries.
It comes with free lifetime access to an exclusive information vault with articles, guides, and downloads that will turn you into a battery expert. It also comes with lifetime support, so if you ever get stuck or have a question, you always have a battery reconditioning expert at your side.