Load Shedding is big problem among Nepalese. That's is why most of the people own inverter based on solar or electrical or hybrid Inverter. Inverter do require Battery to store charge to provide sufficient power during electrical cut.
You may be experiencing issue of battery not charging from inverter. This makes us both sad and angry if our electrical devices stopped working at any point of time.
ps: If you would like to repair your old battery at home without going to mechanic shop, I would recommend you to read our article How to repair inverter battery at home in 5 easy steps
As we all know we need to lookup our damage electrical device to profession mechanic otherwise we may fall in the hand of mechanic who no nothing or little. Here comes one famous english proverb "Little knowledge is Dangerous"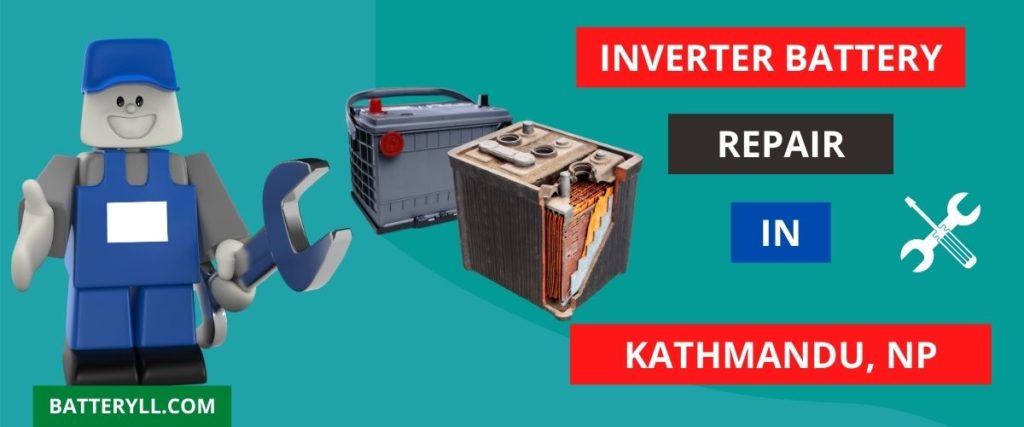 So our main moto is to recommend you good Battery Repair Center in Kathmandu. Not only in Kathmandu we will recommend repair center in laltipur, bhaktpur, Biratnagar, Butwal, Pokhera, Jhapa as well.
I have listed below some of the Inverter battery repair center, If you find something missing and need to updated please let us know through email [email protected]
| Repair Center Name | Location | Contact Number |
| --- | --- | --- |
| Staff Maruti Parts Center | विश्वविद्यालय पथ | 01-4285341 |
| Battery Power Nepal Pvt | रिङ्ग रोड | 984-5162822 |
| Sony Electronics | रत्न मार्ग | 985-1048514 |
| JK Mobile Repair Center | रञ्जना मार्ग | 01-4258157 |
| CAMERA ZONE | रञ्जना मार्ग | 01-4246586 |
| Shubham Mobile | मैतीदेवी मार्ग | 01-4421756 |
| SATYA BHAMA BATTERY WORKS TRADE | मचाली | 01-4242137 |
| Hulas Power Pvt. Ltd. | भुलाँ मार्ग | 01-4419413 |
| Aanchal Electronics Trade Pvt. Ltd | भक्ति थापा सडक | 01-5244134 |
| Alternator Enterprises | भक्ति थापा सडक | 01-4462060 |
| Baltra Home Appliances | भक्ति थापा सडक | 01-5244461 |
| Power King Battery Suppliers Pvt. Ltd. | बालाजु-१६, बालाजु चक्रपथ ट्राक दायाँ | 984-1877791 |
| Jyoti Enervgy Pvt. Ltd. | बालाजु चक्रपथ ट्राक दायाँ | 01-4350110 |
| Agni Energy Pvt. Ltd. | बालाजु चक्रपथ ट्राक दायाँ | 01-4384176 |
| DEEP DIGITAL PVT LTD | पुतलीसडक रोड | 01-4421402 |
| Rijalco Mobile House | पिपल बोट, Opposite Of | 984-9707713 |
| Sipradi Trading Pvt. Ltd (Bagdol) | पचली मार्ग | 01-5188114 |
| Newroad Gate Mobile Repair Center | नयाँ सडक | 985-1177530 |
| Bathwal Traders | नयाँ सडक | 01-4220253 |
| M. P. Mobile Repairing Center | नया बस पार्क, मनोराम मार्ग | 980-4022470 |
| Battery Care & Maintences Center | ढुङ्गेधारा | 985-1098469 |
| NS BIOMEDICAL EQUIPMENTS SERVICE PVT LTD | टेकु रोड | 01-4370711 |
| MEDICAL EQUIPMENT SOLUTIONS | टेकु मार्ग | 980-3600383 |
| Prerana Energy House | चक्रपथ | 984-1496552 |
| Arya & Sans Pvt.Ltd. | चक्रपथ | 01-5249085 |
| Construction Equipment And Chemical Paints Trade Concern | ग्वार्को, रिङ्ग रोड | 01-5201385 |
| DASH COMPUTER & MULTISYSTEM | गोंगबुँ मार्ग | 01-4360808 |
| Tirupati Trading Pvt. Ltd. | कुमारी क्लब, Dakshinkali Road | 01-4419413 |
| Xenon Power Planet | कालोपुल | 980-4112013 |
| Devi Battery Trade Concern | कालधारा मार्ग | |
| Repairing Center | कारखाना चोक, रिङ्ग रोड | 01-5244134 |
| Battery Care & Maintainance Center | कान्तिपुर मल्ल, नया बस पार्क, गोंगबु रोड | 984-3541789 |
| Mac Support Pvt. Ltd. | कान्तिपथ सडक | 01-4249097 |
| iCare Apple Service Nepal | कान्तिपथ मार्ग | 01-4218620 |
| Cloudream Auto Electric | ऋषि भक्त मार्ग | 981-8783854 |
| Smile Mobile Repair Center | अमर चित्रकर मार्ग | 986-0050871 |
| Keystone Trading House Pvt. Ltd. | Ward No. 5, Bhat Bhateni Marg | 01-4440444 |
| Himal Trade Link Pvt. Ltd | Unnamed Road | 980-5226000 |
| cctv access Control Pabx Intercom House | Unnamed Road | 985-1190618 |
| Auto Parts International (Pvt) Ltd | University Path | 01-5165160 |
| Nagmani International | Triveni Tower, 4th Floor, Yengal, Om Bahal (Near New Road) | 01-4247888 |
| ITTI Pvt Ltd Computer Store | Trinity House | 01-4242101 |
| Nature Knit | Tridevi Sadak | 01-4254812 |
| SEIKO SHOWROOM AND SERVICE CENETER | Tindhara Pathshala, Durbar Marg | 01-4232475 |
| Lotus Energy Pvt. Ltd. | Thirbam Sadak | 01-4418203 |
| Unique Mobile Sales & Repairing Centre | Thamel Marg | 984-1939649 |
| Raju Electronics and watch repair | Thalachi | 981-3184374 |
| Vape Nepal | Tangalwood, Tangal Marg | 980-1130282 |
| Tablet Phone & Laptop Repair Center. | Tamrakar Complex, Pako Sadak Shop -69 | 985-1089160 |
| Tamrakar Mobile | Tamrakar Complex, Pako Sadak | 985-1091542 |
| Tele Care Pvt. Ltd. | Tamrakar Complex, 6th floor, Pako Sadak | 01-4254546 |
| Ktm Mobile Center | Tamrakar Complex Shop No 31 | 984-3091576 |
| Digitronics | Tamrakar Complex | 974-1010097 |
| Nepal Laptop Soiution Pvt Ltd | Tadha Hiti Galli | 01-4239184 |
| Royal Bike Warehouse | Sungabha Marg 21 | 01-5363357 |
| Smart Mobile Care | Smart CAre, Tamrakar Mobile Lab Shop No 54D | 01-4258733 |
| TATTOO GIZMO NEPAL, SITAPAILA | SITAPAILA, RINGROAD | 984-9376204 |
| Asan Computer Centre | Siddhidas Marg | 01-5324794 |
| Complete Mobile Repairing Shop | Siddhartha Marg | 980-3989555 |
| Su-Kam Service Center (Surya Roshni Industrial Pvt. Ltd.) | Shruti Marg | 01-4416370 |
| Canon Image Square (Civil Mall) | Shop No.106, 1st Floor, Civil Mall, Sundhara, Kathmandu, Nepal Kanti Path | 01-4257297 |
| Cdma Solution Center | Shop No. 50, China Town Shopping Center, China Town Rd | 984-1080561 |
| Techno Store (Apple Store/Shop In Nepal) | Shop No: S7 B&C, 2nd Floor, City Centre, Kamalpokhari | 01-4011527 |
| Gadgets And Gears | shop no 60, Chokchya Galli 29 | 984-1258045 |
| EvoStore - Apple Authorised Reseller in Nepal | Sherpa Mall, Durbar Marg | 01-4229706 |
| Swiss Watch Service | Seto Dhoka Marg | 01-4222909 |
| M.H. Mobile Store | Saugal | 980-3455443 |
| SabKo Phone Pvt. Ltd. | Sanepa Rd | 01-5520575 |
| Samsung Mobile Plaza (IMS) | Samsung Mobile Plaza, Hotel Royal Singi Arcade, Kamaladi | 01-4441571 |
| CellZen Pvt.Ltd | Saat Ghumti Marg 3 | 01-4700904 |
| Raju Auto Spare Parts Center | Rudramati Marg | 01-4494728 |
| Jay Matadi Suppliers | Ring Road | 01-4276119 |
| Bipas Traders | Ring Road | 01-4276119 |
| Tuladhar Trade International | Ring Road | 01-4357266 |
| JCB | Ring Road | 01-5184088 |
| Vapemandu | Rb complex, New Rd | 984-9861887 |
| Sunrise Electronics | Rayamajhi Marga | 981-3436337 |
| Battery World | Ravibhavan, Ganeshman Singh Rd | 01-4280499 |
| JB Digital Trading | Putalisadak Chowk | 986-3034484 |
| Digital Infosys Pvt. Ltd. | Putalisadak | 01-4012553 |
| Computer Bazar | Putalisadak | 985-1066066 |
| Mac Support Patan | Pulchowk Rd | 01-5009107 |
| Best Deals Nepal | Pulchowk Gabahal Road पाटन ढोका Patan बागमती | 01-5535139 |
| Kathmandu | POB N. 19793 | 01-4104358 |
| Himalayan Solution | Pipal Bot Marg | 984-6287379 |
| Chitwan Tailoring centre | Pinglasthan, Bhim Nidhi Tiwari Marg | 984-1140311 |
| OPPO Kathmandu Service Center | Pashupati Rd 3 | 985-1210623 |
| Rakesh Motor Parts | Pashupati Rd | 984-1430048 |
| N.P. Mobile | Pashupati Rd | 985-1003652 |
| Syncro International Pvt. Ltd. | Pako, New Road | 01-4222313 |
| IMS Care - Samsung Authorized Service Center | Pako, New Rd | 980-2002535 |
| J & J Enterprises | Pako Sadak 139 | 01-4267123 |
| NCG Enterprises | Pako Sadak | 01-4259981 |
| Tamrakar Complex | Pako Newroad Tamrakar Complex | 01-4251731 |
| My Store Nepal | Paknajol, Thamel Kathmandu | 01-4260072 |
| Battery Care Service | Old Sinmangal Road | 980-8942886 |
| Neoteric Nepal Pvt Ltd | Norkhang Complex, 3rd floor, Pulchowk Rd | 01-5553222 |
| LALIT TRADING CO | New Road Opposite Civil Bank | 01-4229207 |
| Makura Technology Pvt. Ltd. | New Road Complex, Ground Floor, New Road Phone: 01-4254167, Email: [email protected] | 01-4254167 |
| WEfixit NEPAL | New Road | 981-3673557 |
| Apple iPhone repair | New Rd | 980-3744123 |
| Ifix Nepal - Iphone Repair and Service | New Rd | 984-0051802 |
| NEW WORLD | New Rd | 01-4242133 |
| Techmine - Online Store For Tech | New Rd | 984-0610458 |
| Laptop Repair Training Kathmandu | New Rd | 985-1198723 |
| Superpro Laptop Repair | New Rd | 980-8694701 |
| Nepal Music Gallery | Nepal Scout Building, Leknath Marg | 984-1805379 |
| Gurju Trade House | Nagarkot Road | 01-6610521 |
| Rohit Mahatara | Nachhen Galli | 01-5713513 |
| Saitech Infosys Pvt. Ltd. | Nachhen Galli | 01-4227565 |
| REDOX INTERNATIONAL | Nacchen Galli | 985-1206752 |
| STG International | Mobile House, महाबौद्ध सडक | 01-4216381 |
| Keshu Motorcycle Auto Parts | mitrapark | 01-4485215 |
| NEW HI-TECH AUTO CENTER | Milan Marg | 986-0310326 |
| EvoStore - Apple Authorized Reseller and Service Provider | Mercantile Plaza, Durbar Marg | 01-4220659 |
| bishnu auto parts | Madan Bhandari Road | 01-4004503 |
| Camera Repair Shop Kiran Dai Ko | Leknath Marg | 01-4417771 |
| PANASONIC CAR BATTERY | Layaku Marg | |
| imobile and repair center | Lagankhel Wet Market | 980-3887149 |
| Chimauriya Mobile Repairing | Kumari Marg | 980-4022470 |
| Kalwar Auto Trading Pvt Ltd | Khashi Bazar, Near Sita Petrol Pump | 980-2031602 |
| Total Repair Nepal | Kharibot Chowk, Bagdol Rd 4 | 982-3861568 |
| New Snapper Photo Goods | Kesha Plaza, New Rd | 01-4224645 |
| MAX INTERNATIONAL | Kathmandu Plaza opposite, MaxTower, Kamaladi Rd | 01-4415786 |
| HERO | Kantipath Marg | 01-4163503 |
| Suvam tech Pvt. Ltd. | Kankacho Binayak Marg | 981-0298999 |
| S.K.S. Mobile Repairing Center | Kalankisthan Marga | 984-1058434 |
| Totolink Nepal | Kalanki, Nepal | 980-1132766 |
| Sukam Repair Center | Jyoti Marga | 980-1023731 |
| Namaste Nepal Mobile Repairing Center | Jyatha Marg | 984-1332375 |
| PANC Bike | Jwalamai Marg | 980-3469300 |
| Gokarna Electric and Electronics Center | Jorpati-Sundarijal Road | 984-9508605 |
| Vape 977 | House No:141, Shiva Shankar Marga, Sorakhutte | 985-1299996 |
| Megatech Trade Group Pvt.Ltd | Hattisar Rd | 01-4233501 |
| OS Mobile Repair Center | Guna Kamdev Marg | 01-4012553 |
| Oliz Store | Apple Store/Shop in Kathmandu, Nepal | Ground Floor, OLIZ, 351, Basanta Marg, BabarMahal | 986-1060000 |
| NARAYANI INFOSYS Pvt Ltd | Ground Floor Of Sunrise Bank, नच्‍छेन गल्ली | 01-4267894 |
| iWorld | OlizStore Chayaa Center Thamel | Apple / Store / Products | iPhone Price in Nepal | Ground Floor Chayaa Center | 980-1021297 |
| KHARIBOT HATTIBUN MOBILE CENTER | Godavari Road | 01-5251226 |
| Amtrade Pvt.Ltd | Ganeshman Singh Rd | 01-4101010 |
| A AND A BATTERY CONCERN | Ganeshman Singh Rd | 984-1528616 |
| Manadhar Buttery Center | Ganeshman Singh Rd | 985-1199165 |
| TNT Business Link | Ganeshman Singh Rd | 984-1160128 |
| NEW BHAMA BATTERY WORKS | Ganeshman Singh Rd | 984-1324692 |
| ASB International Pvt. Ltd. | Gairidhara Rd | 01-4004503 |
| iStore | OlizStore Rising Mall | Authorized Apple Reseller/Store in Nepal | iPhone 12 Price in Nepal | G02 , Ground Floor, Rising Mall , Teendhara , Darbarmargh | 984-0297777 |
| Ezone | Fresh House building, Ground Floor, Ranamukteshwor Marg | 01-4242796 |
| Nepal Green High Tech Pvt Ltd | Ekantakuna-Tikabhairab Rd | 984-1503139 |
| Om watch and Glass shop | Ekantakuna Rd | 980-3600383 |
| Stuff | Durbar Marg | 01-4246367 |
| A.S. MOBILE, WATCH REPAIR SALE CENTER | Divine Complex, Ganeshman Singh Rd | 984-1222323 |
| Parkasa battery terdarsa | Dharma Path | 01-4222720 |
| Mobile Care Nepal | Devkota Sadak | 984-0021166 |
| L.S. Mobile Solution | Devkota Sadak | 984-1695202 |
| Prince The Mobile Shop( 9803490510) | Devkota Sadak | 01-4104358 |
| YES TRADERS - MOBILE ZONE | CTC Mall Sundhara Ground Floor 122 | 981-3001000 |
| Remax Nepal | CivilMall, 4th Floor, Kanti Path | 01-4260779 |
| Unique Car Decoration Pvt Ltd | Chunne Pakha | 01-4275882 |
| New Mahalaxmi Mobile Shop | Chautarphi Marg 35 | 981-3184374 |
| Indrayani Motor Garage & Service Center | Chamati-16, चमती विष्णुमती किनार बायाँ | 981-0132817 |
| यन्त्रालय​ | chabhil opposite to subpower station | 985-1177530 |
| Asian Batteries Pvt.Ltd | Chabahil Ganesh Marg | 985-1117426 |
| Kharibot Mobile & Computer Solution | Boudhadwar Marg | 01-4472415 |
| Luminous Battery Invertor | Bishalnagar, Kathmandu, Nepal | 984-1014544 |
| ELECTRO CONCERN | Bishal Bazar, नयाँ सडक | 01-4266833 |
| Asian Batteries Pvt.Ltd. | Birendra Marg | 01-2987906 |
| The Bikesmith | bikesmith road, pepsicola | 984-1982128 |
| Guru Institute of Engineering & Technology | Bhakti Thapa Sadak | 01-4482357 |
| Impact Trade Concern Pvt Ltd | Below NDs Restaurant Nepal Dairy Market | 01-4150684 |
| RYTE Mobile Service Center | Basuki Marg | 985-8052166 |
| iHub (Buy OnePlus in Nepal) | Basanta Marg 351 | 980-1021297 |
| Baneshwor computer Center | Baneshwor plaza, New Baneshwor, Devkota sadak | 01-4484642 |
| Balaju Tyre House | Balaju Ring Rd Track Left | 01-4380400 |
| Zenith Mobile Service | Bahakha Bazar | 984-1506232 |
| Laptop Nepal | Bagbazar-31 | 01-4242644 |
| Laptop Nepal | Bag Bazar Sadak | 01-4242644 |
| KTM digital meter repair point | Araniko Highway | 986-0551353 |
| Sun Mobile Store | Araniko Highway | 984-1584637 |
| G-sense Technology Solution | Araniko Highway | 985-1080004 |
| Kites Mobile | Araniko Highway | 984-1615828 |
| City Mobile Hub | 4th Floor, Shop:520, CTC Mall, China Town Rd | 980-8564918 |
| Megatech Trade Group | 3rd Floor King's Way Tower Ghantaghar Opp., Durbar Marg | 01-4233745 |
| Apple Store/Service Centre in Kathmandu, Nepal | 1st Floor, Oliz Tower, Basanta Marg | 984-0051673 |